Flameproof LED Lights Range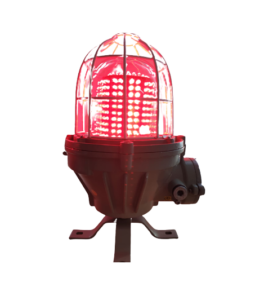 Flameproof AviationLight Family
Lighting plays a crucial role in human health and safety, especially in shift-based working industries. Poor lighting conditions can have a detrimental impact on productivity and safety, leading to issues such as induced migraines, impaired sleep-wake cycles, and reduced alertness. To address these concerns effectively, it is essential to rely on a trusted brand that offers technical expertise and reliable solutions for optical and energy-efficient industrial lighting.
ILS (Ideal Lighting) is that brand, committed to providing lighting solutions that prioritize human health, safety, and high productivity while ensuring energy savings and minimal maintenance requirements.
Our Flameproof High Performance LED Light Ranges are specifically designed to meet the stringent requirements of hazardous areas where safety and efficiency are paramount. Developed in compliance with IS/IEC 60079-0:2014, our products have received approvals from esteemed organizations such as CIMFR (Central Institute of Mining and Fuel Research), PESO (Petroleum and Explosives Safety Organization), and ISI (Indian Standards Institute).
Key Features of ILS Flameproof High Performance LED Light Ranges:
Optimal Safety: Our lighting solutions are engineered to provide utmost safety in hazardous environments. The flameproof design ensures that any potential ignition or explosion is contained within the luminaire, preventing the spread of fire or harmful gases.

Energy Efficiency: We prioritize energy efficiency to help organizations reduce their carbon footprint and operating costs. Our LED lights are designed to deliver high luminous efficacy, ensuring optimal illumination with minimal energy consumption.

Long Life and Reliability: ILS products are built to last, offering long operational life and consistent performance even in demanding industrial settings. With our reliable lighting solutions, you can minimize downtime and maintenance costs.

Compliance and Approvals: Our flameproof LED light ranges comply with the relevant national and international safety standards, giving you confidence in the quality and reliability of our products. Approvals from CIMFR, PESO, and ISI further validate the safety and performance of our lighting solutions.
ILS understands the importance of creating a well-lit and safe working environment that promotes employee well-being and productivity. Our lighting solutions are carefully designed to provide the best possible lighting experience while prioritizing energy efficiency and meeting the highest safety standards.
Choose ILS for your industrial lighting needs and experience the benefits of our optical and energy-efficient lighting solutions. By relying on ILS, you can save energy, enhance human health and safety, and boost productivity, all while enjoying the peace of mind that comes with zero maintenance requirements.
Contact us today to explore our Flameproof High Performance LED Light Ranges and discover how ILS can transform your industrial lighting infrastructure.