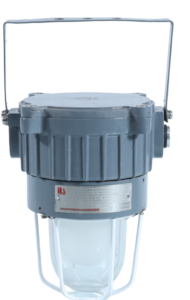 Flameproof Hand Lamp - 24V AC
Flameproof LED Hand Lamp 15W comes with toughpned glass with internal lense with 85% transmittance and many CCT options. Maintenance free operation for years. ILS hand Lamps are  made of in-house die-casted case and heat sink. This provides excellent performance and reliability along with good service life.
Wattage          : 15W 
CCT                   : 6500K / 5000K / 3000K
CRI                     : >70
Beam Angle   : Diffused >160º
Input Supply  : 24V AC, 50/60Hz,
Ta                         : -10ºC ~ 45ºC
Features
Fire & Ignition proof.
Soft and comfortable light to relieve the fatigue of eyes.
Excellent CRI for actual colour reproduction.
Energy saving efficiency and low heat produce.
 AL die-cast housing for excellent heat management.
Quick installation, special design,
Highly reliable professional design.
Applications
Pharma Industry, 

Paint Industry,
Fertilizer Industry, Oil & Gas Industry,
LPG Bottling Industry, Chemical Industry,
Steel Industry, Cement Industry,
Refineries & Petrochemicals
Optics 
Toughpned Glass 
High transmission 80%
Non-Removable
LED Driver 
Rated supply : 24V AC, 50/60 Hz.
PF > 0.95, THD <10%
Short / Open circuit protection,
U/V, O/V protection.
Thermal management
Silicon based TIM
Very high conductivity
Standards Compliance
IS 15885 ( Part 2/Sec 13)
EN 61000-3-2, Harmonics Current
EN 61000-3-3, Voltage Fluctuations, Flicker
EN 61000-4-5, Surge Immunity
EN 61547, EMC
Mounting
Wall Flush – M8, 2 Nos ( Default ).
External Earthing – 2 Nos
Weight & Cable entry
Weight – 3.0 Kg.
Cable entry – M20, 2 Nos
Easy Installation.